The Pros and Cons of Living with Children in Retirement
August 1, 2023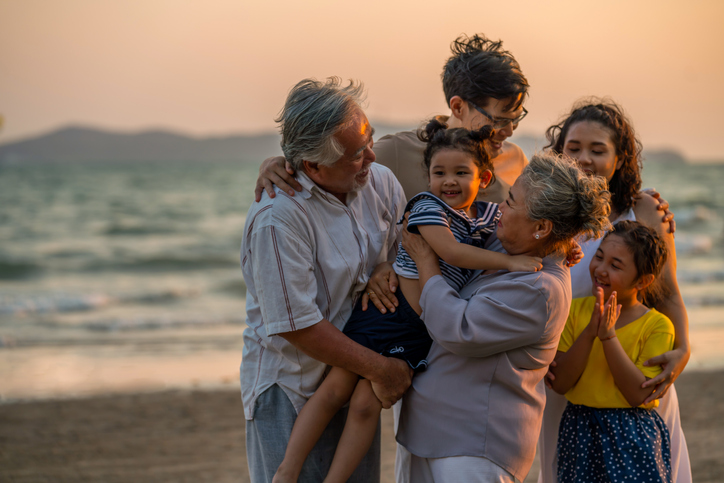 Combining households can be a positive experience for everyone. In order to ensure that every member of the family is comfortable with living together, it will be important to talk it out. Communicating about any concerns before moving in together and then regularly thereafter will ensure that everyone remains happy with the decision to cohabitate. Amy Goyer, an AARP family expert, tells children of retirees to embrace the chance. "Look at this as an opportunity," she adds. "You have a chance to enjoy your mom or dad in their later years. This is a way for children to know their grandparents in a way they wouldn't otherwise."
Before combining households, retirees and their children should consider all of the pros and cons of living together during retirement beforehand.
The Pros of Living With Children During Retirement:
Retirees can be a big part of their grandkids' lives. Many parents choose to live with their children during retirement so that they can be a major part of their grandkids' lives. Some parents want to help their children raise their kids, such as picking them up from school, helping with meals, or taking their grandkids to their extracurriculars after school. Parents who were busy with work while their own children were growing up may feel that they can now make up for lost time.
Your family will have a strong support system in place. While you may want to help your children with their needs, they may also need to help you. This can range from needing a ride to a doctor's appointment to needing care after surgery or during an illness. Either way, living together will enable each of you to be more available to one another in times of need.
Combined expenses may make living together more cost effective for both of you. Having a real financial talk with your children before you decide to combine households may prove that it could save each of you a lot of money. Coming up with a budget of shared expenses can actually help family members thrive both as a whole and individually. With the right budget, retirees shouldn't have to dig into their retirement as much every month, while their children will be able to save up more of their monthly income.
In addition to communicating with one another about finances and caretaking roles, make sure everyone is allotted their own personal time. For instance, grandparents may opt to have their friends over while their grandkids are in school and their children are at work. Working together to ensure that every member of the family gets space from one another from time to time will help prevent anyone from feeling stifled. Retirement expert Nancy K. Schlossberg, author of Too Young to Be Old: Love, Learn, Work and Play as You Age, says, "If you do your emotional work upfront, you're more likely to be satisfied with your final decision."
The Pros of Living With Children During Retirement Could Also be the Cons:
Retirees may not want to become full-time babysitters. If your children have children, and you're disinterested in being a full-time babysitter to the grandkids, setting boundaries upfront about what you do and don't want to do will be extremely important. Also, consider day-to-day life with young children and maybe pets. "If you have no tolerance for noise, do you want to move into a house with children or teenagers?" asks Jennifer Prell, president of Illinois elder-resource network Silver Connections.Be realistic about what you will and won't be able to handle on a daily basis.
Children of retirees may not want to become full-time caretakers either. Children of retirees may not be prepared for the burden of caring for their own parents.Again, establishing what everyone is comfortable with will be imperative. Contemplate the worst-case scenarios before moving in together. "Even if Mom moves in relatively healthy, that could change overnight," elder-law attorney Kerry Peck points out. "Families generally underestimate the amount of care that Mom is going to require."
Retirees (or their children) may end up footing the bill for everyone. If retirees or their children become overly reliant on one another, then moving in together may become more expensive for one party than remaining apart. Having an honest talk about financial responsibilities and emergency savings before moving in together should help prevent unexpected expenses for either one of you down the road. "So many families run into trouble when something bad unexpectedly happens," says Jill Schlesinger, author of The Dumb Things Smart People Do With Their Money. "That's why it's so important to talk to your kids about the What-Ifs," said Schlesinger.
Consider Alternatives to Living Together
If you decide that joining households may not be the best option for your family, there are alternatives. Simply living closer to one another can reap the same benefits of living with children during retirement while removing the downsides.
While there's an appeal to living ten minutes from one another, one of you may feel as if some of your independence has been lost. Talk to your children, and decide how close is too close. If in the end, you decide to live farther away from your children, planning reciprocal visits or spending part of the year with them may turn out to be the best of both worlds.
If you do decide to remain independent during retirement, make sure there's plenty of room in your home for your children to visit or stay overnight. If you have more than one child, factor in enough space for all of them and their families, so that each of your children may visit you simultaneously.
In the end, living with your children during retirement should be beneficial for both of you. Insureyouknow.org can help your family keep the peace. When combining households, keeping the budget, financial information, healthcare records, and even family schedules in one easy-to-access place can help everyone work together to keep the household running smoothly. Since communication will be the key to living happily together, it will be important for everyone to be in the know.