Paying for Early Childhood Intervention Services
October 1, 2023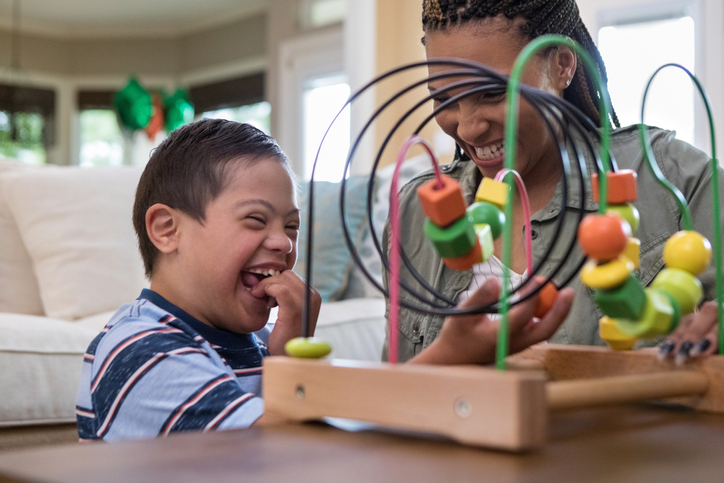 Over three million children in the United States had a reported disability according to the 2019 U.S. Census, and that number has risen 0.4% since 2008. Children experiencing developmental delays, not reaching developmental milestones, or those at risk may be eligible for early intervention services and supports.
When to Screen for Developmental Delays
If a child is born prematurely or with a genetic condition, then that child may qualify for early intervention as soon as birth. Early screening is part of the services that should be offered while parents are in the hospital for their child's birth. However, if a parent becomes concerned about their child's development after birth or notices any changes, they should refer their child for an early intervention evaluation. Eligibility for services is based on an evaluation of a child's skills and abilities. A doctor's referral is not necessary for an evaluation. It's important for parents to educate themselves on which milestones their children should be reaching and not rely completely on their doctor's recommendations; it is parents who spend the most time with their children, so they may notice something that a pediatrician won't catch during a routine check-up. Emma Fitzsimmons, a New York mom who claims early intervention saved her son's life, tells other parents, "If you're worried that your child has delays, I would encourage you to seek out Early Intervention services and to ask for recommendations to find the best therapists in your area and a good service coordinator, the person who oversees your case."
Know What Your State Offers
If eligible for early intervention, children may receive services to help with physical skills (crawling and walking), cognitive functions (thinking and learning), communication (talking and listening), adaptive skills (eating and dressing), and social-emotional development (play). Services are wide-ranging and can include speech therapy, physical or occupational therapy, psychological services, home visits, nutritional services, audiology (for hearing issues), vision therapy, social work, assistive technology, and even transportation.
The Individuals With Disabilities Education Act, or IDEA, covers early intervention and school-aged services. Under Part C of IDEA, funding is made available to each state and requires services to be made available to eligible children with disabilities. While all states offer early intervention, the screening processes and services offered vary state by state. The first step in finding out what your child may qualify for is learning about what your state offers. The CDC offers links for each state in order to learn about the benefits your state offers. Each state has its own guidelines around how families qualify, but generally, a child must exhibit a developmental delay or have been diagnosed with a specific health condition that is known to lead to delays, such as a genetic disorder. The Early Childhood Technical Assistance Center (or ECTA) also outlines the services each state offers. In some states, children may be eligible for services if they are at risk and not yet exhibiting any delays, such as having been born at a low weight. If a child is found eligible for services, a care team will develop an Individualized Family Service Plan (IFSP), which will outline the services a child will receive and the desired outcomes for those services. For instance, physical therapist Tonya McCool explains, "If a child presents with a delay that limits their abilities to complete age-appropriate milestones, a provider will assist by guiding the child into appropriate positions, providing them opportunities to experience new opportunities or helping them try new things so that their families can continue to work with them throughout the week to meet their goals."
Who Pays for Early Intervention Services?
Under IDEA Part C, Child Find services, which include the initial referral, evaluations, the development of the IFSP, and service coordination must be made free to families, but depending on your state's policies, some services may be provided at a cost or on a sliding scale. In addition to the federal education funds provided through IDEA, Medicaid and private insurance can also help cover the costs of interventions, such as speech therapy and hearing services. Finding a provider that is familiar with Early Intervention funding will know best how to help families cover the costs of these services. Although early intervention is mandated by IDEA and designed to meet the needs of children, it often requires a combination of resources to cover the costs of services. The ECTA's website offers contact information for each state's lead agency, who will be able to provide parents with the resources they'll need to secure services and funding. If your child qualifies for interventional services, it will be important to become educated in what services must be provided at no cost to you through IDEA Part C.
What Happens When Services End?
Once a child is three, if they are still experiencing delays or require supports, then services will continue and transition into special education services. These are often provided through a child's school at no additional cost to you. The age at which a child begins schooling also varies state-by-state, which is why it's important for families to work with their initial early intervention team in order to ensure children continue receiving the supports they need. When an IFSP is developed, it should include any support for the transition to preschool when a child turns three. Plans should be reviewed every six months, as children change quickly from birth to age three.
Early intervention services can have an enormous impact on a child's ability to meet developmental milestones. These services are provided not only for a child, but also so that their caregivers have the tools they need to create a healthy environment for their entire family. Insureyouknow.org can help you keep track of medical records, interventional resources, and your child's IFSP, as well as their progress. When it comes time for your child to start school, having this paperwork organized in one place will help you provide their school with everything they require in order to ensure the necessary continued supports.