Go Wherever Your WiFi Leads You
April 15, 2021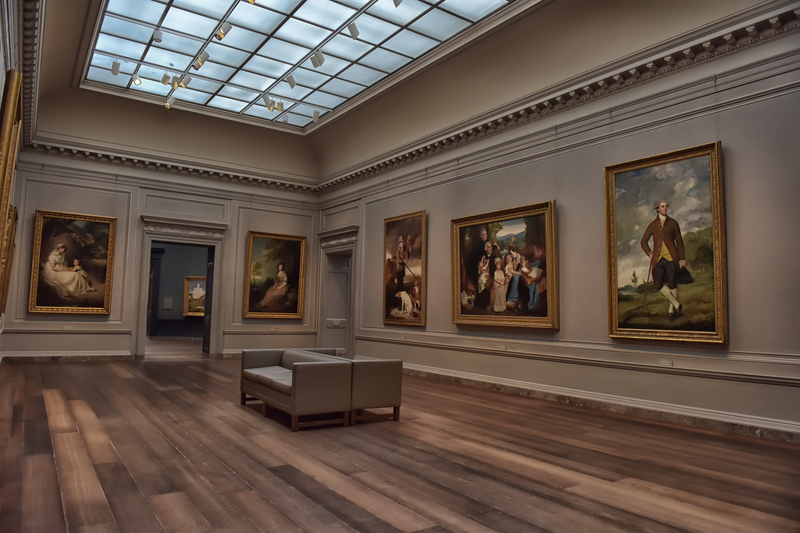 Although you may be fully-vaccinated against COVID-19, the Centers for Disease Control and Prevention advises you "to keep taking precautions—like wearing a mask, staying 6 feet apart from others, and avoiding crowds and poorly ventilated spaces—in public places until we know more." So, you may decide to wait to travel in person this spring and summer. You also may find that many tourist destinations are not currently open to world travelers. With a Wi-Fi connection, you can stay home and virtually visit museums, galleries, college and university campuses, and many natural wonders of the world.
Museums and Galleries
Google Arts & Culture teamed up with more than 2,500 museums and galleries around the world to bring virtual tours and online exhibits of some of the most famous collections where you can gain knowledge about art, history, and science. Here is a sampling of some of the most popular ones.
British Museum, London, allows visitors to see the Great Court and discover the ancient Rosetta Stone and Egyptian mummies that are physically located in London.
Guggenheim Museum, New York, has online exhibits dedicated to promoting the understanding and appreciation of art, primarily of the modern and contemporary periods.
National Gallery of Art, Washington, D.C., features two online exhibits through Google. The first is an exhibit of American fashion from 1740 to 1895, including many renderings of clothes from the Colonial and Revolutionary eras. The second is a collection of works from Dutch Baroque painter Johannes Vermeer.
Musée d'Orsay, Paris, lets tourists virtually walk through this popular gallery that houses famous works from world-renowned artists, including Van Gogh, Monet, Degas, Cézanne, and Gauguin who worked and lived between 1848 and 1914.
National Museum of Modern and Contemporary Art, Seoul, is one of Korea's most popular museums that Google captured in photographs of six floors of contemporary art from Korea and all over the globe.
Pergamon Museum, Berlin, one of Germany's largest museums, is home to ancient artifacts including the Ishtar Gate of Babylon and the Pergamon Altar.
Rijksmuseum, Amsterdam, contains masterworks from the Dutch Golden Age, including works from Vermeer and Rembrandt.
Van Gogh Museum, Amsterdam, provides a virtual tour of the largest collection of artworks by Vincent van Gogh, including more than 200 paintings, 500 drawings, and 750 personal letters.
The J. Paul Getty Museum, Los Angeles, houses artworks from the 8th to the 21st Centuries, showcased against a backdrop of dramatic architecture, tranquil gardens, and breathtaking views of Los Angeles.
Uffizi Gallery, Florence, houses the art collection of one of Florence, Italy's most famous families, the de'Medicis.
MASP, São Paulo, is a nonprofit and Brazil's first modern museum. Artworks placed on clear perspex frames make it seem like the artwork is hovering in midair.
National Museum of Anthropology, Mexico City, is dedicated to the archaeology and history of Mexico's pre-Hispanic heritage.
Campus Visits to Colleges and Universities
Traditionally, high school students and their parents visit college and university campuses to narrow higher education choices during spring and summer months. Instead of setting out on a coast to coast road trip, why not virtually visit campuses from the comfort of your own home?
Princeton Review provides an expansive table of colleges and universities with virtual alternatives to on-campus tours sorted by state. If you don't see a school your college-bound student is interested in, check directly on the school's website.
Natural Wonders and World Heritage Sites
There are many natural wonders, captivating landscapes, and stunning UNESCO World Heritage Sites that you can visit with virtual reality without boarding a plane!
Acropolis, Greece, provides a tour of the most prominent monuments—the Parthenon, the Propylaia, the Erechtheion, and the Temple of Athena Nike.
Machu Pichu, Peru lets you go on a virtual walking tour of the famous Incan site.
Mt Everest, Nepal allows you to feel like you are on an adventure of a lifetime when you reach the peak of the tallest mountain in the world.
Son Doong Cave, Vietnam, is the world's largest cave where you can navigate through the Vietnamese jungle before descending into this massive cave system.
Yosemite National Park, California, offers a virtual tour of captivating places to visit including Half Dome Summit, Glacier Point, and Indian Rock Arch.
Grand Canyon, Arizona, presents a bird's eye view of the most beautiful spots in the Grand Canyon and a guided tour with a park ranger.
Giant's Causeway, Northern Ireland, prompts you to take in the beautiful views of this unique landscape from your computer screen as you listen to the waves crashing below.
Perito Moreno Glacier, Argentina, allows you to zoom in to get up close and personal to the glacier or zoom out to see the surrounding beautiful landscape.
Sossusvlei in Namibia provides a panoramic view of beautiful red sand dunes in the southern part or the Namib Desert.
The Dolomites, Italy, lets you glide the mountain range from an eagle's point of view.
Great Barrier Reef, Australia, takes you on a 360-degree dive where you'll feel like you're swimming with fish, spotting sea turtles, and diving in and out of coral reefs on this unique virtual diving experience.
Antarctica, from the Falkland Islands all the way to the South Pole–this virtual tour will guide you through this remote part of the world.
VENT (Victor Emanuel Nature Tours), based in Austin, Texas, offers an exciting array of tours and destinations via webinars that encompass a wealth of birding and natural history related topics, all from an educational, instructional, or informational standpoint.
InsureYouKnow.org
After you've seen the cultural, educational, and natural wonders of the world virtually, keep a record of all the places you visit and narrow your list to sites you'd like to visit in person. You also can make checklists with features your college-bound students like and don't like for every college you visit virtually. You may be enticed to make reservations for trips in the near future and you may consider taking out travel insurance to provide ease of mind during uncertain times. You can stash all of these lists securely at insureyouknow.org so you'll know where they'll be when you're ready to travel safely and comfortably in person.