Five Things To Know About the Capital Gains Tax
September 15, 2023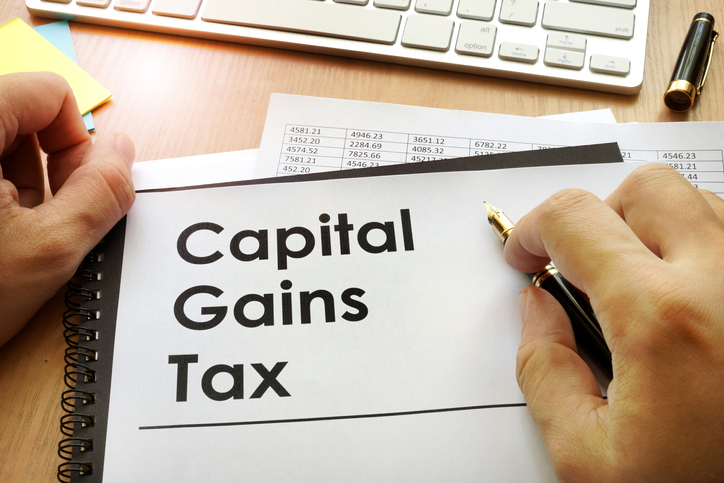 It's never too early to start planning for tax season. While much of what you own will experience depreciation over time, any profit made from something you sell may be subject to the capital gains tax. So if you think you'll be making a return on a previous investment this year, then you're going to want to be well-versed in the capital gains tax.
Understanding the Capital Gains Tax
A capital gains tax is a tax on profits made from the sale of assets, such as stocks, businesses, real estate, and other types of investments. When you sell anything and make a profit, the U.S. government views that profit as taxable income. The capital gains tax is calculated by deducting the original cost of the asset from the total sale of that asset. It's important to understand the capital gains tax guidelines, such as profits made from real estate or collectibles, which come with their own unique rules. Understanding the rules can help you make the best decisions about your capital gains income.
In order to minimize losses and maximize your gains, here are five things to know about the capital gains tax.
The Real Estate Rules
If a person sells their home for $250,000 or less, or a married couple sells their home for $500,000 or less, then they are exempt from the capital gains tax; this exemption is only available once every two years. If you sell your home or any other investment property for more than that but reinvest the money made from the sale into a new property, then you would also be exempt from paying taxes on your real estate gains; this is known as the 1031 exchange. Cory Robinson, financial portfolio manager says, "That's the beauty of taking gains: You can immediately reinvest." For a home to qualify as a primary residence, you must have lived in it for at least two years, or two years out of a five year period. It's important to understand the rules around property sales, so speaking with an advisor is always recommended before selling your home. "Familiarize yourself with the capital gains tax exclusion rules and consult a tax advisor," says financial analyst Greg McBride. "If the property has been your primary residence for less than 24 months, for example, you may decide to hold off until you've reached that threshold to avoid capital gains tax."
The Difference Between Short and Long-term Capital Gains
Put simply, if you have held any asset for less than a year before selling it, then that asset is considered a short-term capital gain and is subject to a higher capital gains tax; if you own that asset for longer than a year before selling, then your profit is considered a long-term gain and subject to a lower tax rate. This is why selling any asset before you've owned it for at least 12 months should be avoided if possible.
Investment and Rental Property Strategies
The rules around investment property are different since their value typically depreciates over time. A 25 percent rate then applies to the gain from selling real estate that depreciated, because the IRS wants to recapture some of the tax breaks you've been getting due to depreciation, known as Section 1250 property. If you sell a rental property that you have not lived in for at least two years for over $250,000 (or $500,000 if married), then that property could be subject to not only the depreciation rate but a capital gains tax that is based on your income bracket. One wat to avoid this could be to invest in property in opportunity zones, areas identified as economically disadvantaged, which are tax-free when sold after ten years. Deducting expenses, such as home improvements, repair, and even closing costs, is another way to lower the amount of profit that is subject to the capital gains tax.
Your Income Bracket Determines Your Capital Gains Tax Rate
Tax rates are determined by your tax bracket, so a lot of people will actually pay no capital gains tax on the sale of long-term assets if they fall in the 0% tax rate. For the 2023 tax year, a single person that made up to $44,625, and a married couple that made up to $89,250 jointly would not have to pay any capital gains taxes.
Keep Track of Both Gains and Losses
When an asset is sold for more than what it cost, it results in a capital gain, but when the asset is sold for less than it cost, it results in a capital loss. If you have both gains and losses, it will be important to know your net gain, or your gains minus your losses; only net gains are subject to the capital gains tax. If you only have losses in a given year, then capital losses could actually lower your taxable income. This loss is limited to $3,000 per year per person (or $1,500 if you're married). If you have an excess of $3,000 in losses, then those losses can actually be carried forward to future tax years.
It's never a good idea to buy or sell assets solely for tax purposes, but that doesn't mean you shouldn't be well aware of the rules around the capital gains tax. Insureyouknow.org can help you store all of your financial records in one place, so that it's easier for you to keep track of your assets and taxable income. Before selling any investment, it's important to know the laws unique to your state and speak with an advisor, who will know best what taxes you may be held responsible for. It's good to know that for many, zero taxes on gains are actually possible.