Challenges of Long-Haul COVID-19
March 15, 2022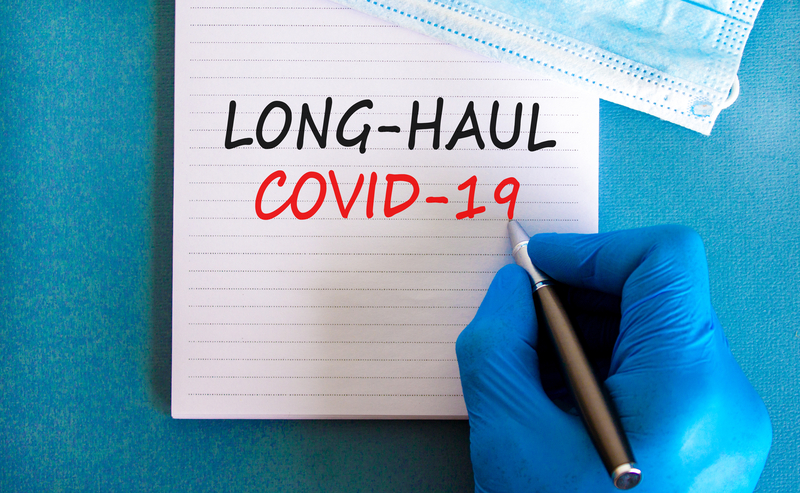 COVID-19 syndrome lasts about two weeks for most people. But for others, long-lasting symptoms persist even after they have recovered from the acute phase of the illness.
If you are living with post-COVID-19 syndrome, you may be referred to as a "long hauler." Under this label, you may continue to experience fatigue; shortness of breath; hyperlipidemia; cough; joint, muscle, or chest pain; cognitive problems, difficulty concentrating, depression, headache, rapid heartbeat, or intermittent fever. You also may be enduring anxiety, the most common psychological symptom of long-haul COVID-19, or depression.
Conclusions in the white paper A Detailed Study of Patients with Long-Haul COVID: An Analysis of Private Healthcare Claims, published by the nonprofit organization FAIR Health, show the odds of death for patients hospitalized with COVID were 46 times higher 30 days after their diagnosis than those who hadn't been hospitalized. Of patients who had COVID-19, 23.2 percent had at least one post COVID condition 30 days or more after their initial diagnosis with COVID-19. Post-COVID conditions were found to a greater extent in patients who had more severe cases of COVID-19, but also in patients whose cases were asymptomatic.
Causes of Long-Haul COVID-19
The causes of long-haul COVID are still unknown. Theories include persistent immune activation after the acute phase; initial damage from the virus, such as damage to nerve pathways, that is slow to heal; and persistent presence of a low-level virus.
Treatment for Long-Haul COVID-19
Doctors and therapists can work with you to address symptoms. Healthcare institutions, such as Johns Hopkins Medicine, have set up multidisciplinary clinics to support the recovery of people who have had COVID-19.
Long-term COVID-19 symptoms can be like signs of other diseases, so it is important to see your doctor and rule out other problems, such as cardiac issues or lung disease.
Don't ignore the loss of smell or the occurrences of depression, anxiety, or insomnia, or conclude that they are "all in your head." Any symptom that interferes with your daily life is worth contacting your doctor, who can help you address these problems and improve the quality of your life.
If you experience new chest pain, difficulty breathing, bluish lips, or any other sign of a life-threatening problem, call 911 or emergency services right away.
Breathing exercises, physical therapy, medications, and other treatments can help improve your health, but be prepared for a gradual recovery.
Prevention of Long-Haul COVID-19
The best way to avoid post-COVID-19 complications is to prevent infection with the coronavirus in the first place. Practicing coronavirus precautions and getting a COVID-19 vaccine are effective ways to avoid getting COVID-19.
Understanding the seriousness of COVID-19 and its potential for long-term, debilitating symptoms is good motivation for protecting yourself and others by observing current CDC guidelines and being aware of community levels and prevention steps by county.
Insurance Coverage of Long-Haul COVID-19
Most insurance plans will automatically pay for familiar and frequently used tests, treatments, and procedures for common conditions, but may require proof that a service is "medically necessary" to cover a claim. Be sure you work with your healthcare providers to receive the best care possible for long-haul COVID-19 symptoms under the parameters of your specific health insurance plan.
As of July 2021, long-haul COVID-19 can be considered a disability under the Americans with Disabilities Act (ADA) if it substantially limits one or more major life activities. "Guidance on 'Long COVID' as a Disability Under the ADA" provides information that may answer your questions about disability coverage for long-haul COVID-19.
It is your responsibility to provide proof of loss and disability which may require you to be under the regular care of a physician. A specific diagnosis of long-haul COVID-19 will be helpful for you to claim coverage under long-term disability benefits. You'll also need your diagnosis to be supported by appropriate testing, including lab results or neurologic or cognitive function testing.
InsureYouKnow.org
At InsureYouKnow.org, you can store your COVID-19 vaccination and booster records and keep track of visits to healthcare providers as well as clinical tests and results. You also can document your application and correspondence for disability insurance for your recovery from long-haul COVID-19.