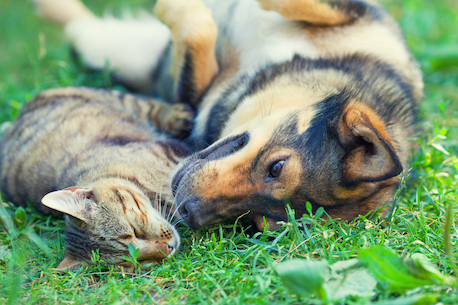 Anyone with pets knows that taking care of them isn't cheap. According to the American Pet Products Association, Americans spent more than $72 billion on their pets in 2018. From food to boarding, there are a lot of expenses associated with owning a pet.
One of the biggest expenses is veterinary care. A trip to the veterinarian isn't cheap, nor should it be. Veterinarians have spent years in school learning how to care for and treat animals. They're doctors for animals, and when Rover swallows something he shouldn't or Tigger suddenly stops eating, their expertise is worth every penny.
But when money is tight, an unexpected trip to the vet can break your budget for the month. And that's if you can afford to pay for care at all; some pet owners feel they have to put their beloved family member down because they can't afford expensive medical treatments.
There is a potential solution: pet insurance. Just like your health insurance helps cover the cost of your medical care, pet insurance can defray some of the expenses associated with veterinary care. And just like you need to understand how your health insurance policy works in order to avoid an unexpected bill, you need to read the fine print on any pet insurance policy before signing on the dotted line.
If you're trying to decide if pet insurance is the right decision for you, here are a few questions to ask yourself:
Does your pet have any preexisting conditions?

If so, stop right there. If your vet has diagnosed your pet with an ailment or disease already, pet insurance won't cover any care for it. That may include illnesses or accidents related to the condition.

How old is your pet?

Generally speaking, the older the pet, the higher the premiums. You'll get the best rates when your pet is still young. Keep in mind that the rate most likely will rise as your pet ages, and it's not uncommon for people to drop pet insurance after their pet reaches a certain age.

Is your pet prone to hereditary conditions?

Many large dog breeds are known for hereditary conditions, such as hip dysplasia and torn ACLs. Insurers often won't cover treatment for these conditions even if your pet wasn't showing any symptoms when you initially bought coverage.

Can you afford to save up instead?

If you can afford it, it might be smarter to have a separate savings account for pet care. If you never need it, great—you can put that money toward paying down debt or a down payment on a house. Just keep in mind that should the worst occur, medical expenses can add up quickly.
Pet insurance is growing in popularity; according to the North American Pet Health Insurance Association, about 1.4 million pets in the U.S. and Canada were covered by a plan in 2014, up from 680,000 pets in 2008. If you're considering purchasing pet insurance, be sure to explore all your options, including whether you can get it through your employer. Eleven percent of U.S. employers offer pet insurance benefits, according to the Society for Human Resource Management.
If you decide to purchase pet insurance, be sure to upload the policy and any related documents to InsureYouKnow.org. When you need to access them quickly, you'll be glad they're in a safe, secure, easy-to-find location.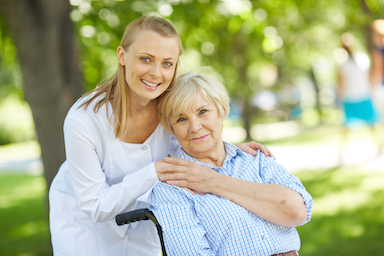 No one likes to think about growing old. In fact, many people pretend that it's never going to happen. But instead of fearing the inevitable, it's better to plan for it.
In addition to starting to save for retirement at an early age, it's important to think about what you're going to do if your health starts to decline. According to AARP, by the time you hit 65, chances are 50-50 that you'll need long-term care (LTC) due to chronic illnesses, disabilities or other conditions, such as Alzheimer's disease. And it's not cheap; if you pay for it yourself, you're looking at an average annual cost of $140,000.
LTC insurance can help. LTC insurance is different from health insurance, which you'll still need. It helps cover costs that your regular health insurance won't, such as help with daily activities like bathing, getting dressed and eating. These services may be provided in your home or at a nursing home or assisted living facility.
Unfortunately, LTC insurance is cost-prohibitive for many due to poor planning on the part of insurance companies. When these policies were first introduced, insurers greatly underestimated the amount they would pay out in claims. People were living longer, but they weren't necessarily staying healthier, so insurers were paying for care longer than they had anticipated. In addition, insurers thought people would prefer to receive care in their homes, but many opted to move into more expensive assisted-living facilities.
As a result, many insurers stopped offering LTC insurance. In 2000, 125 companies were selling standalone LTC policies; by 2014, only 12 companies were. Those that still do sell them have raised their premiums drastically. For example, earlier this year, Mass Mutual announced it was raising premiums on existing policies by 77 percent. Today, premiums average $2,700 a year.
There are options you can consider if you can't afford LTC insurance. Maybe relatives can help with your care. Maybe you can pull some equity from your home. Maybe you can build up your savings even more and plan on paying for future LTC out of pocket.
But if you have a family history of Alzheimer's or simply believe LTC insurance would bring you more peace of mind, it may still be your best bet. Here are a few things to keep in mind when you start looking for a policy:
Begin your search in your 50s or early 60s at the latest.

Prices rise sharply as you age. You can pay 10 percent more for a policy when you buy it at age 65 rather than at 64. Keep in mind that you won't qualify for coverage if you wait until you actually need care because then you will be considered as having a preexisting condition.

Shop around.

Like with any other major purchase, it's important to do your homework and research your options. If the process sounds daunting, you might want to consider getting assistance from an insurance agent or broker.

Look into group rates.

Premiums may be more affordable if you qualify for a group rate through an employer-sponsored plan or plan offered by a professional organization you belong to. Before you sign up, be sure to read the fine print and find out if you can keep the policy if you leave the organization.

Consider a joint policy.

You may get a better rate by purchasing a single policy that covers you and your spouse or another family member. The discount is typically 30 percent off the price of separate policies. If you're interested in going this route, you'll want to find out what the maximum benefit is for everyone under the policy and consider whether that will be enough for both of you.
If you do purchase an LTC insurance policy, be sure to keep all related paperwork safely stored on InsureYouKnow.org along with all your other important documents. It's the best way to make sure you can find them quickly and easily should the need arise.
Safeguarding the future of your dependents does not begin in the future but it all begins now. That is why most if not all individuals in the working class category aim to secure the future of their loved ones through insurance products. Life insurance helps you achieve this and term life insurance is cheaper compared to whole life insurance in its own battle of term life vs whole life.
However, it is important to note though expensive, whole life insurance has other additional benefits. In the case of term life insurance, coverage is between one to thirty years and it is often referred to as the pure life insurance. The reason is because it is meant to serve your dependents in the event you die prematurely. The has no other value, which means that if you die within the term the policy covers, your beneficiaries only receive the death benefit.
It is important to opt for a term life insurance which is in line with when your family will need the funds the most such that in case you are not around, whatever you leave behind, will be able to supplement your income and serve them accordingly. If you live long enough, then such funds at maturity will serve as security for you when you finally retire.
In the case of whole life insurance, there is lifelong coverage as well as cash value, in which case, the latter acts as the investment component of this policy. No taxes are charge on your funds as the cash value grows and you can borrow against the policy, only that you will need to surrender your policy, meaning that you will remain without cover.
In the event you fail to repay this loan with the interest attached, then this will reduce your death benefit. The best thing with whole life insurance is that cash value growth and death benefit are guaranteed and premiums remain unchanged throughout your lifetime. Also, there is the probability of benefiting from the insurer's surplus in this case, which is paid as dividends but there is no guarantee.
In the battle between term life vs whole life, Term life insurance may be cheaper but in most cases, you family will not get a payout because there is no cash value attached. It works best if;
You are looking for the most affordable coverage available in the insurance market.
If you cannot afford permanent life insurance but you want it because there is provision to convert most term life policies to permanent coverage.
You are looking for a policy that will only cover a specific period such as the time to pay off your mortgage, or the time it will take to raise your children.
On the other hand, whole life is appropriate if;
You want to equalize inheritance such as leaving one child with property and compensating that with a benefit payout for the other child.
You wish to provide funds to pay estate taxes to avoid a case where your heirs have to sell part of the property in future to pay for such taxes in future.
You wish to spend what you have saved after retirement and still cater for your funeral expenses because with whole life, a payout is guaranteed.
You have a special needs child and you would want to have a fund to take care of that child.
Planning to buy a life insurance plan? Here's what you need to know about the different types of life insurance:
Term Life Insurance
Term life insurance is the simplest type of life insurance where you buy life coverage for a specific period of time and pay a monthly premium. It only pays if death occurs during that set period, which usually ranges from one year to 30 years.
Term life insurance is the cheapest form of life insurance starting from as low as few hundred dollars a year for $300,000 worth of coverage. Term life insurance, in most of the cases, doesn't have any investment component linked to it. You are just paying an annual premium to protect your dependents in case anything happens within the policy term.
There two further sub-categories of term life insurance:
Level term – Fixed premiums and death benefits stay the same throughout the term of the policy
Decreasing term – Death benefits decrease each year incrementally throughout the term of the policy
When opting for Term life insurance, choose a term that fits your current financial situation and figure out the number of years you and your family are more financially vulnerable.
Whole Life Insurance
Also known as permanent life insurance, whole life insurance is more expensive than a term insurance policy but has many additional benefits. A whole life insurance policy provides lifelong death coverage even if you die aged 100 and comes with an investment component known as policy cash value. You can also borrow money against the cash value of your policy plan or even surrender the policy for cash.
There are three main types of whole life insurance; traditional whole life, universal whole, variable whole life.
Traditional whole life – This is the most common type of whole life insurance where the premium stays the same throughout the policy's term and the death benefit is guaranteed. The policy cash value also grows at a guaranteed rate and best of all, you don't have to pay taxes on the gains while they are accumulating.
Universal whole life – This is a type of permanent insurance policy that provides the most flexibility. It provides the option of increasing death benefit later on in the policy term by passing a medical examination. The insured also has the option to change the policy premiums if enough money has been accumulated in the cash value account. The only downside with universal life insurance is that the returns are not guaranteed since it is tied to a money-market type investment that pays a market return rate – which can be positive or negative.
Variable Life Insurance – This type of permanent life insurance provides the opportunity of combining death benefits with an investment component that comprises of stocks, bonds and money market mutual funds. The risk factor for variable life insurance policy is higher but the returns can be equally rewarding as well. If the investments tank, the death benefit and cash value may decrease, however, some policies guarantee a minimum death benefit.
Variable life insurance policy also comes with great flexibility for the insured in terms of the ability to change and adjust the annual premiums. So if your financial situation changes during the policy's term, you have the ability to increase or decrease your premium. The policy cash value account can also be used to pay the premiums, if needed. While there are certain added benefits of variable life insurance, one big downside is that the cash value returns are not guaranteed and the risk of investments lie completely on the policyholder.
Final word
Whichever type of life insurance you eventually opt for, it is essential to be aware of the risks and rewards and choose a plan that fits your current financial status and future life goals.