Tag:
Medical power of attorney
Legal and Financial Planning for Those with Alzheimer's and Their Caregivers
November 1, 2023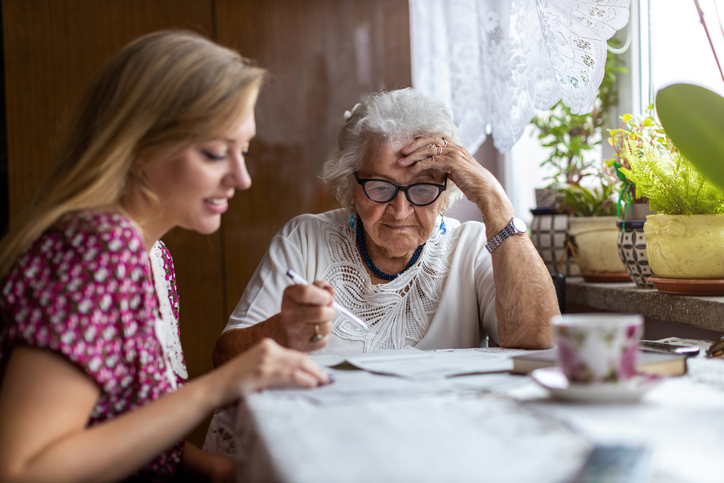 If you or a loved one is diagnosed with Alzheimer's or dementia, then there are certain things that you will need to plan for legally and financially. An estimated 6 million Americans have Alzheimer's, and it is currently the seventh leading cause of death in the United States. Alzheimer's is a brain disorder that slowly decreases memory and thinking skills, while dementia involves a loss of cognitive functioning; both cause more and more difficulty for an individual to perform the most simple tasks. Though a diagnosis can be scary, the right planning can help individuals and their families feel more at ease.
Putting Legal Documentation in Place
Christopher Berry, Founder and Planner at The Elder Care Firm, recommends three main disability documents that should be in place.
First, there needs to be a financial power of attorney, a document that designates someone to make all financial decisions once an individual is unable to do so for themselves. If an individual lacks a trusted loved one to make financial decisions, then designating a financial attorney or bank is an option.
The next document that needs to be in place is the medical power of attorney that designates someone to make medical decisions for an individual. In many cases, it may be appropriate to appoint the same person to be the financial and medical power of attorney, as long as that person is well-trusted by the individual. In the event that something happens to the original power of attorney(s), successor (or back-up) agents for power of attorney(s) should also be designated.
The last document is the personal care plan, which instructs the financial and medical power of attorney(s) on how best to care for the individual in need. For instance, those entrusted to the care of an individual will need to make sure they sign medical records release forms at all doctor's offices; copies of the power of attorney or living will should also be given to healthcare providers.
These three documents provide a foundation to make decisions for the individual diagnosed with Alzheimer's or dementia when they no longer can themselves. It's ideal to include the individual in these conversations in the early stages of their diagnosis, so that they may be a part of the decision-making process and appoint people that they will feel most comfortable with during their care.
How to Pay for Long-Term Care
Since Alzheimer's is a progressive disease, the level of care an individual needs will increase over time. Care costs may include medical treatment, medical equipment, modifications to living areas, and full-time residential care services.
The first thing a family can do is to use their own personal funds for care expenses. It's important for families to remember that they will also pay in their time, as many children of loved ones with Alzheimer's or dementia will become the main caregivers. It may be wise to meet with a financial planner or sit down with other family members, such as your spouse and siblings, to determine how long some of you may be able to forgo work in order to provide full time care.
When personal funds get low or forgoing work for a period of time becomes difficult, long-term care insurance can be a lifesaver. The key to relying on long-term care insurance though is that it needs to be set up ahead of the Alzheimer's or dementia diagnoses, so considering these plans as one ages may be smart.
Veterans can make use of the veterans benefit, or non-service-connected pension, which is sometimes called the aid and attendance benefit. This benefit can help pay for long-term care of both veterans and their spouses.
Finally, an individual aged 65 or older can receive Medicare, while those that qualify for Medicaid can receive assistance for the cost of a nursing home. If someone's income is too high to receive Medicaid, then the spenddown is one strategy to know; under spenddown, an individual may subtract their non-covered medical expenses and cost sharing (including Medicare premiums and deductibles) from their available income. With the spenddown, a person's income may be lowered enough for them to qualify for Medicaid.
Minimizing Risk Factors During Care
Research published recently in the journal Alzheimer's & Dementia found that nearly half of patients with Alzheimer's and dementia will experience a serious fall in their own home. Author Safiyyah Okoye, who was at John Hopkins University when the study was conducted, recommends minimizing risks such as these by safeguarding homes early on in diagnoses. "Examining the multiple factors, including environmental ones like a person's home or neighborhood, is necessary to inform fall-risk screening, caregiver education and support, and prevention strategies for this high-risk population of older adults," she states.
The good news is that since the progression of Alzheimer's is often slow, families have plenty of time to modify the home for increased safety.
In addition to fall prevention modifications, other safety measures may include installing warning bells on doors to signal when they're opened, putting down pressure-sensitive mats to alert when someone has moved, and using night lights throughout the home. Coats, wallets, and keys should also be kept out of sight, because at some point, leaving the home alone and driving will no longer be safe. Conversations about these safety measures, such as when an individual will have to stop driving, are ones that caregivers should have early on with their loved ones. Including individuals in their future planning while they are still cognitively sound will help both them and their caregivers feel more comfortable with the journey ahead.
It's important to remember that even though receiving an Alzheimer's or dementia diagnosis can be devastating, it is not the end. People with Alzheimer's can thrive for many years before independent functioning becomes difficult. Both patients and caregivers will feel more calm through planning ahead. Insureyouknow.org can help caregivers stay organized by storing all of their important documents in one place, such as financial records, estate planning documentation, insurance policies, and detailed care plans. Above all, there is hope for those with Alzheimer's; research is happening every day for potential therapies and future treatments.