The Call to Return to the Office
June 28, 2021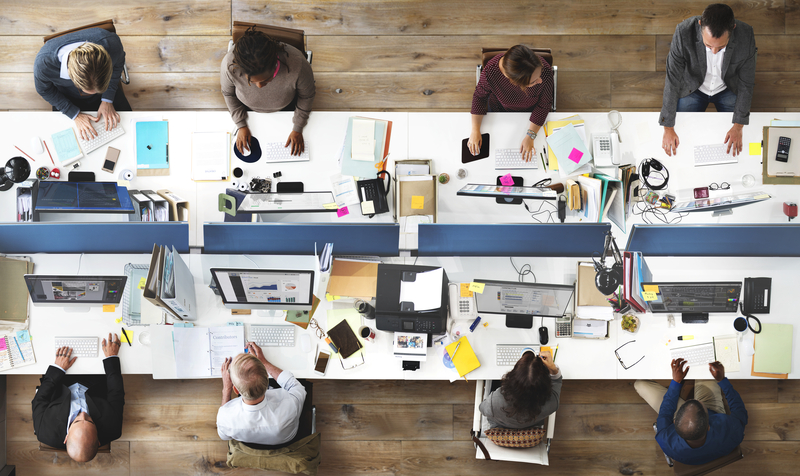 Has your employer notified you that the time has come for you to return to your office? Are you ready, hesitant, or determined to seek an alternative option to keep you at home, or at least closer to home if you also would face the return of a long daily commute?
Employees' Reactions
With the coronavirus pandemic receding for everyone who has received the vaccine, some employers are pushing employees to get back to work in office buildings. But some people have moved during the pandemic; others have concerns about the virus and vaccine-hesitant colleagues; and working parents would have to quickly find childcare options for youngsters out of school for the summer.
According to Bloomberg News, a May survey by Morning Consult of 1,000 U.S. adults showed that 39 percent would consider quitting if their employers aren't flexible about remote work. Some workers are leaving for new jobs, with better pay or remote-friendly working conditions. Others have decided to start their own businesses rather than collect a steady paycheck. Still others are quitting with no firm plans, confident they can get a better deal elsewhere as the economy rebounds from the pandemic recession. Some people are seeking happiness and are rethinking what work means to them, how they are valued, and how they spend and balance their time at work and home.
Increase in Resignations
All these factors are prompting a dramatic increase in resignations—a record 4 million people quit their jobs in April alone, according to the U.S. Bureau of Labor Statistics. More than 740,000 people who quit in April worked in the leisure and hospitality industry, which includes jobs in hotels, bars and restaurants, theme parks, and other entertainment venues. Many workers in these fields are burnt out after enduring conditions during the pandemic that may have put their personal health at risk.
At the same time, white-collar workers are feeling empowered too; resignations also are up in professional services. In March, about a quarter of all workers told Morning Consult they were considering switching employers.
Employers' Reactions
Faced with mass resignations, employers are scrambling to keep their talented workforce on board. Some employers have announced plans to raise pay, be flexible, and make employees' well-being and safety top priorities when they return to their companies' offices. A compromise of allowing employees to choose to work remotely part of their workweek is being considered by concerned employers. With work teams composed of both in-office and remote employees, businesses will need to offer collaboration tools and innovative techniques so employees can continue to work together effectively, regardless of location. No one solution will work for every company, but a reintroduction to office life without a well-thought-out plan can be risky and dangerous.
Post-COVID-19 Working Conditions
Although some companies have decided to remain fully remote and have gone as far as selling their office buildings or not renewing lease agreements, other businesses want their entire staff to return to the office. Most organizations will be somewhere between a fully remote and a fully in-place workforce. Global Workplace Analytics, a research firm that specializes in remote work trends, predicts that 25–30 percent of U.S. employees will work from home multiple days per week by the end of 2021, up from 3.6 percent prior to the COVID-19 pandemic.
Hybrid Work Model
A hybrid work model is made up of both remote and in-office workers and gives employees the ability to choose how, where, and when they perform their job duties. This often includes office spaces designed with flexible work arrangements where employees come and go from the office based on preference and as project work dictates.
Several large enterprise companies have formally announced new policies designed to embrace a hybrid work model that gives employees the option to voluntarily return to the office or continue to work remotely for an indefinite period.
Returning to work after the COVID-19 pandemic will look different for every organization and will require a solution that works best for the safety and welfare of a specific group of employees.
Lifesize.com offers 10 Tips for Companies Returning to Work after COVID-19 under the following bullet points.
· Embrace a hybrid work model
· Implement a rotational work schedule
· Take a phased approach
· Restructure your offices
· Create a sanitary workplace
· Encourage good hygiene and self-isolation
· Have a contingency plan
· Get employee feedback
· Review your communication tools
· Maintain team-building efforts
Following the COVID-19 pandemic, employees and employers will face monumental work-related decisions that will affect the future of a productive workforce returning to physical offices, choosing a hybrid model of in-place and remote work, or abandoning the traditional workplace to seek alternative career options not bound to pre-pandemic conditions.
InsureYouKnow.org
If you are armed with a new contract from your employer that lists enhanced perks, including health and dental insurance benefits, an amended retirement package, remote work options, or a guaranteed raise, keep these records on file at InsureYouKnow.org. Also keep online your up-to-date resume if you are actively looking for a new work arrangement that meets your definition of a satisfying career choice.