How ChatGPT is Shaping Retirement
October 15, 2023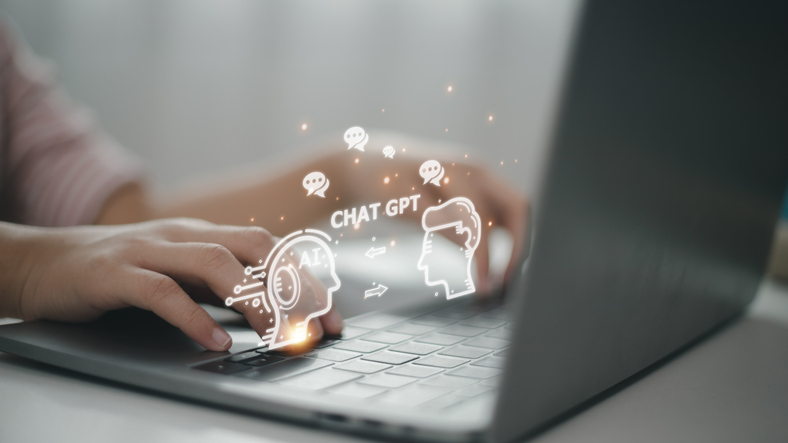 Chat GPT is an artificial intelligence program that can answer human questions. This chatbot is able to understand human language that is spoken or written and then uses algorithms to process and analyze this information in order to produce answers. For instance, you may ask ChatGPT informative questions such as how climate change is affecting endangered species, but Chat GPT can even be directed to write a poem. When it comes to finances, ChatGPT may even be able to help someone begin their retirement planning.
ChatGPT Provides Content, Not Human Advice
Anyone can ask ChatGPT anything, and they will receive a remarkably well-rounded response. If someone were to ask what their retirement plan should include, the chatbot will provide an outline of the basic elements of a common retirement plan. The problem with this is that ChatGPT won't know the person asking the question and be able to understand the individual details of their life that would make a difference in their retirement planning.
While Chat GPT may not completely replace the value of a human financial advisor, that doesn't mean that financial advisors won't need to change the way in which they advise clients to plan for their retirement. If anyone can get a basic plan through ChatGPT, then the services provided by an advisor need to become more about the one thing ChatGPT can't provide: the human understanding and emotional side of advice. Despite having spent decades taking the emotion out of financial decisions, financial professionals will have to pivot to provide more humanity than ever.
How AI Can Improve an Advisor's Abilities
Once upon a time, the internet threatened travel agents everywhere, as people could suddenly book their own plane tickets, hotel rooms, and rental cars themselves, from the comfort of their home computers. But travel agents are alive and well, and that's because the internet still couldn't do one thing that an agent could: understand a client's needs and provide personal advice. Instead of mere transactional planning, personalized insight is the new premiere service that a travel agent can provide, and financial planners can grow to do the same.
While ChatGPT can provide concrete information, it cannot begin to factor in the unique preferences of an individual. True conversation is more than the exchange of information. It involves feelings and the confirmation that the person you're speaking with understands you. A good financial advisor already understands this. Their job is about more than just offering retirement plans; people need empathy. Financial advisor Patti Brennan says her clients "are looking for someone who isn't just focused on managing their money; that's just table stakes. What they really want is to know they've got someone they can count on during times of crisis; someone who will be a trusted advocate for their future and quality of life."
Mitchell Morrison, CEO and founder of Eyeballs Financial, says, "ChatGPT is like building a chassis for the financial plan. Its chief weakness is that the answers you get are only as good as the questions you ask."
While a machine can provide the building blocks of a good plan, an advisor has the capability to understand the complexities of financial planning and the nuances of a person's life. Together, ChatGPT and the advice from a professional can be used to formulate a plan that is more well-rounded than if someone just relied on one or the other. Rob Leiphart, a certified financial planner at RB Capital Management, adds that, "ChatGPT lacks one crucial step needed in financial planning and investment management: KYC," or know your client. "It doesn't begin by asking questions of its own in order to hone its responses. Instead, it provides generic or basic advice," he says.
While AI 's abilities will evolve, financial advisors will be required to as well. Professionals should view ChatGPT as a tool and reevaluate their role in retirement planning. While clients can be well-versed through the framework that ChatGPT can provide them, financial planners can become educators, coaches, and navigators of their retirement plans.
What AI Can Do For You Now
ChatGPT can do more than provide information on how to begin planning for retirement. It can also be used as a resource to think outside of the box in terms of finances. Here are five ways anyone can use ChatGPT to improve their finances now.
Whether you're interested in supplementing your income now or during retirement, you can ask ChatGPT, "What are the best side gigs for retirees, in my area, or in my field of work?" AI will provide a list of options ranging from consulting, house sitting, or personal errands.
2. Build a better resume
Perhaps you'd like to make more money in your working years or there are a handful of positions you've always wished you could land. ChatGPT can help make your resume stand out by suggesting which skills recruiters are looking for in certain positions.
3. Get your business off the ground
ChatGPT could tell you how much you'll need to start that business you've always dreamed of starting, including what resources you'll need to get going, projected earnings, and even help with sales copy. Whether you're selling goods or services, you'll need good advertising to attract potential clients. ChatGPT can provide you with a better idea of what your business idea will entail and help you to create a detailed plan of action.
4. Get tips for writing a better house listing
Planning to make money for retirement by selling your house or planning to move when you can retire are both common goals. An attractive house listing can help you get the best offer on your current property. Paired with gorgeous pictures of your home, ChatGPT can help you write the listing that will get you the most interest. You could even use ChatGPT to help you buy your home elsewhere by researching the most cost effective places to retire.
5. Find financial planners in your area
Once you've decided it's time to start thinking about your retirement, ChatGPT can provide you with a list of qualified and highly-rated financial advisors in your area. Plus, educating yourself through ChatGPT on common retirement plans before you meet with your advisor will give you an idea of what to discuss at your meeting.
Retirement planning can be overwhelming, but you'll benefit from using every resource available to you, including ChatGPT. For now ChatGPT is an excellent starting point but shouldn't be the main resource of your final plan. Insureyouknow.org can help you compile your research, store your financial records, and serve as a valuable place to regularly revisit and fine tune your retirement plan.