The Most Wonderful/Stressful Time of the Year
December 1, 2021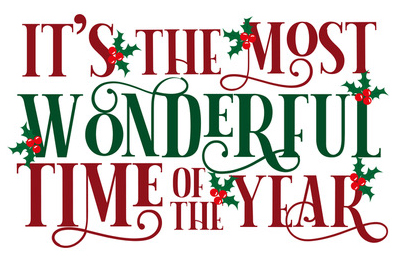 Welcome to what is referred to as both the "most wonderful" and the "most stressful time of the year." During the second year of the COVID-19 pandemic, you may be experiencing stress and depression—unwanted emotions that can ruin your holidays and impact your physical and mental health.
Although you can't control inflation, high gas prices, food and toy shortages, and shipping delays, you can be realistic, plan ahead, and seek support to overcome holiday stress and depression. You may even end up embracing the "most wonderful time of the year."
Tips to Deal with Seasonal Pressures
Be realistic. COVID-19 cases are on the rise in some areas and even if you've been vaccinated, you may decide not to gather with friends and relatives in person. You can opt for a virtual celebration or increase efforts to share photos, texts, emails, phone calls, or videos with loved ones.
Avoid overspending, especially if you're already feeling financial stress. Consider alternatives to expensive gifts by donating to charities in giftees' names or by making and giving homemade presents.
Strive to decorate your home, create meals and desserts, and select gifts that will be appreciated not because they are "perfect" but because they are heartfelt and sincere.
Plan ahead. Compile lists of recipients and specific gift ideas; don't go to browse in busy stores, hoping for inspiration. Save time and frustration caused by traffic and parking congestion by shopping online for items on your gift list. Schedule specific times to shop, bake, and attend social events. Plan menus and then create a detailed grocery list to prevent forgetting needed ingredients.
Acknowledge your feelings. Stress about gatherings with family and friends, or feeling grief about missing loved ones, may result in sadness and grief. Take time to acknowledge and express your feelings. You can't force yourself to be happy just because it's the holiday season. If you celebrate in person or in other ways as described above, set aside differences and controversial topics and concentrate on positive conversations.
Practice mindfulness by bringing your attention to the present moment and avoid getting stressed about past or future events.
Reach out. If you feel lonely or isolated, seek out community, religious or other social events, or communities. Many helpful organizations have websites, online support groups, social media sites, or virtual events that can offer support and companionship.
Volunteering your time and doing something to help others also are good ways to lift your spirits and broaden your friendships. Consider dropping off a meal and dessert at a friend's home or to a community center that serves less fortunate individuals during the holidays.
Learn to say no. Set priorities based on preserving your well-being and don't overextend yourself or you may wind up feeling resentful and overwhelmed. Learn to feel guilt-free when you decline invitations and recognize that you sometimes need to allow yourself to say no to demands on your time.
Maintain healthy habits. Get ample sleep, eat well—even at holiday events—and stay physically active in your daily routine. Maintaining healthy habits during the holiday season will be one of your best defenses against stress. When you feel a bout of stress coming on, have a healthy snack before a holiday party to curb your desire for high-calorie food and drink. Try deep-breathing exercises, meditation, or yoga. Avoid excessive tobacco, alcohol, and drug use.
Take a breather. Make time for yourself. Find an activity you enjoy like taking a walk, listening to calming music, or reading (or listening to) a book. Disconnect temporarily from social media and electronic devices.
Seek professional help if you need it. Even after following all the tips listed above, you may find yourself feeling continuously sad or anxious, beset by physical complaints and lack of sleep, and unable to face daily chores. If these feelings last for a while, talk to your doctor or a mental health professional. If you rely on medications to maintain your physical and mental health, make sure your prescriptions are up-to-date and that you have an adequate supply when your doctor's office or pharmacy may be closed or have reduced hours during the holidays.
InsureYouKnow.org
At InsureYouKnow.org, you can keep a handy record of your prescriptions, refill expiration dates, and contact information for healthcare providers who prescribe and pharmacies that fill your medications.
Home for the Holidays
December 17, 2020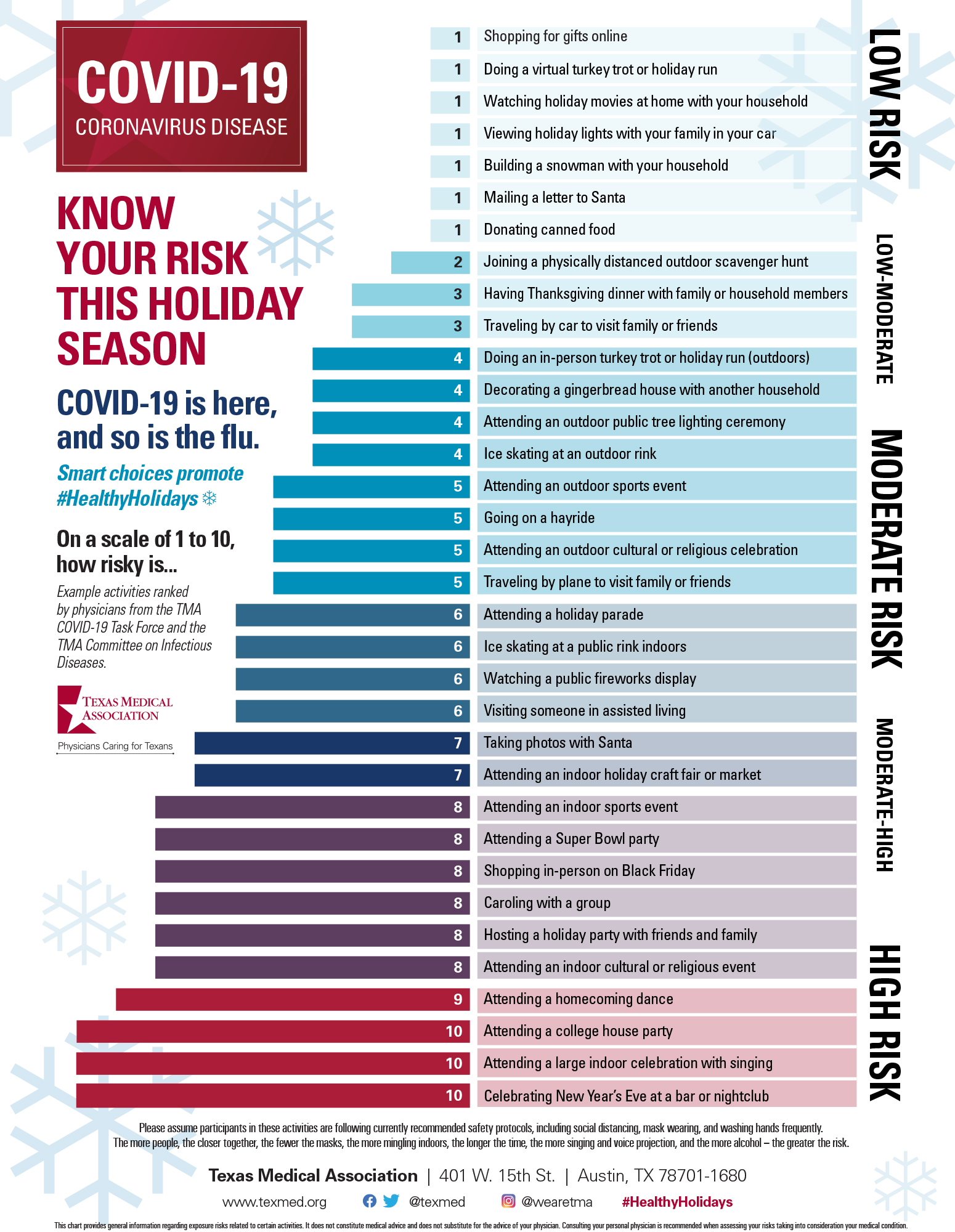 As 2020 comes to a close, memories of past holiday gatherings with family and friends may increase the stressful and isolating feelings you have experienced during the COVID-19 pandemic. Holiday celebrations will be different this year to prevent the spread of COVID-19.
Texas Medical Association has compiled a Know Your Risk This Holiday Season chart to provide a list of high-risk activities to avoid and fun alternatives to adapt that pose lower risk of spreading COVID-19. The chart ranks 34 holiday activities from least to most risky so holiday revelers can make informed choices during the busiest travel and social-gathering season of the year. Among the least risky items on the chart are shopping for gifts online, watching holiday movies at home, or viewing holiday lights with your family in your car. The riskiest activities include attending a large indoor celebration with singing, attending a college house party, and celebrating New Year's Eve at a bar or nightclub.
The Centers for Disease Control and Prevention (CDC) reports that the best way to stay safe and protect others this holiday season is to stay home and celebrate with people with whom you live. Getting together with family and friends who do not live with you can increase the chances of getting or spreading COVID-19 or the flu.
Travel Plans up in the Air
Travel is highly discouraged because it may increase your chance of getting and spreading COVID-19. Consider postponing travel and staying home to protect yourself and others this year.
If you are considering traveling, the CDC recommends asking yourself the following questions before you make your travel plans.
Are you, someone in your household, or someone you will be visiting at increased risk for getting very sick from COVID-19?
Are cases high or increasing in your community or your destination? Check CDC's COVID Data Tracker for the latest number of cases.
Are hospitals in your community or your destination overwhelmed with patients who have COVID-19? To find out, check state and local public health department websites.
Does your home or destination have requirements or restrictions for travelers? Check state and local requirements before you travel.
During the 14 days before your travel, have you or those you are visiting had close contact with people they don't live with?
Do your plans include traveling by bus, train, or air which might make staying 6 feet apart difficult?
Are you traveling with people who don't live with you?
If the answer to any of these questions is "yes," you should consider making other plans, such as hosting a virtual gathering or delaying your travel.
The safest thing to do is to stay home, but if you do decide to travel, testing can make travel safer but it does not eliminate all risk.
Safety Measures from Home and Back
If you decide to travel, get a flu vaccine prior to traveling and follow these safety measures during your trip to protect yourself and others from COVID-19:
Wear a mask in public settings—on public and mass transportation, at events and gatherings, and anywhere you will be around people outside of your household.
Avoid close contact by staying at least 6 feet apart from anyone who is not from your household.
Wash your hands often with soap and water for at least 20 seconds or use hand sanitizer that contains at least 60 percent alcohol.
Avoid contact with anyone who is sick.
Avoid touching your face mask, eyes, nose, and mouth.
According to the CDC, for those who decide to travel, COVID-19 tests should be considered one to three days before the trip and again three to five days afterward. The agency also recommends travelers reduce non-essential activities for a full week after they return or for 10 days if not tested afterward.
Based on extensive modeling, the CDC has revised quarantine guidance and now recommends that people who have been in contact with someone infected with the virus can resume normal activity after 10 days, or seven days if they receive a negative test result. That's down from the 14-day period recommended since the pandemic began.
At InsureYouKnow.org, you can keep track of travel insurance, medical records, including any COVID-19 testing and results as well as vaccines for the flu and COVID-19, when it becomes available. Social gatherings next winter are predicted to be more enjoyable and fraught with less fear of contracting and spreading a coronavirus. You'll also have more opportunities to travel and to reconnect with family and friends after a COVID-19 vaccine has been disseminated worldwide.