Step Right Up to a Safety Program at Your Workplace
March 31, 2022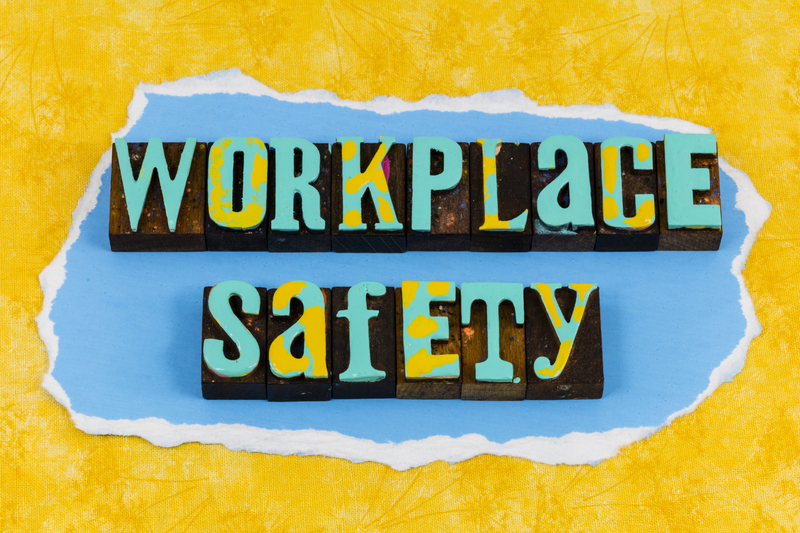 With more people transitioning to a post-pandemic work environment and returning to work in person, employees and employers may need to review their workplace safety plans to prevent injuries and reduce the high cost of insurance claims. According to the Occupational Safety and Health Administration (OSHA), "The main goal of safety and health programs is to prevent workplace injuries, illnesses, and deaths, as well as the suffering and financial hardship these events can cause for workers, their families, and employers."
OSHA's recommended practices use a proactive approach to managing workplace safety and health. Traditional approaches are often reactive—that is, problems are addressed only after a worker is injured or becomes sick, a new standard or regulation is published, or an outside inspection finds a problem that must be fixed. These recommended practices recognize that finding and fixing hazards before they cause injury or illness is a far more effective approach.
Create a workplace safety plan
Both management and employee involvement are needed when creating a safety plan. If employees are involved in identifying and resolving safety and health problems, they will bring their unique insights and energy to achieving the goals and objectives of a safety plan. Employees are the most valuable assets of a company. Their safety, health, and goodwill are essential to the success of a business.
Employers and employees can take the following steps to create a comprehensive workplace safety plan:
Identify risks and potential hazards in your workplace. After you've identified the risks in your business environment, make sure all employees understand the risks associated with their positions.
Learn your industry's compliance standards. As the government agency charged with setting and enforcing standards of safe and healthful working conditions, OSHA frequently updates its rules for individual industries, so it's important to stay on top of the regulations for your industry.
Develop programs and processes. You'll need to create clear guidelines for your employees to promote a culture of health and safety at your company. Employee job descriptions should be clear and in writing, discussing individual responsibilities related to health and safety.
Seek input on workplace changes. Before making significant changes to the workplace, work organization, equipment, or materials, consult with workers to identify potential safety or health issues.
Make improvements. Set aside a regular time to discuss safety and health issues, to identify ways to improve the program.
Educate your employees. Training sessions should be held whenever a new hire is made, or when new processes, procedures, or equipment are introduced to the workplace. Be sure to teach employees how to identify hazards, prevent accidents, and respond to injuries. Display posters as reminders of your company's safety procedures and priorities and include workplace safety procedures in your employee handbooks.
Enforce and evaluate your safety plan. If your employees aren't on board with enforcement, you'll have a tough time implementing any changes in your safety and health policies. Routine safety audits and annual training sessions are effective ways to begin enforcing safety rules.
Be prepared for inevitable injuries. Even after you have established a safety plan, an accident might occur in your workplace. Devise a plan to relocate your employees when they're injured and have contact information at the ready for your occupational medicine and workers' compensation providers.
Include psychological challenges in safety concerns
The American Psychological Association (APA) proactively supports employee productivity and mental wellness that strengthen overall organizational performance through reduced turnover and decreased health care costs.
APA's perspective involves five interconnected domains:
Employee involvement empowers staff by involving them in decision-­making and providing autonomy.
Work-life integration provides flexibility around when, where, and how staff work.
Employee growth and development expand employees' knowledge and skills and help develop their careers.
Employee recognition rewards employee contributions.
Health and safety maximize staff health by preventing, assessing, and treating potential risks and encouraging healthy behaviors.
Employers will find that implementing OSHA's recommended practices and APA's interconnected domains also brings other benefits. Safety and health programs help businesses:
Prevent workplace injuries and illnesses
Improve compliance with laws and regulations
Reduce costs, including significant reductions in workers' compensation premiums
Engage workers
Enhance their social responsibility goals
Increase productivity and enhance overall business operations
InsureYouKnow.org
After you've established a safety and health program at your workplace, you should be all set on being safe and sound at work. But, if you do experience a mishap and need to file a claim for worker's compensation or disability insurance, keep track of your medical records and insurance details at insureyouknow.org.