Category:
Physical Activity and Execise
Take These Five Simple Steps to be Healthy at Any Age
July 14, 2023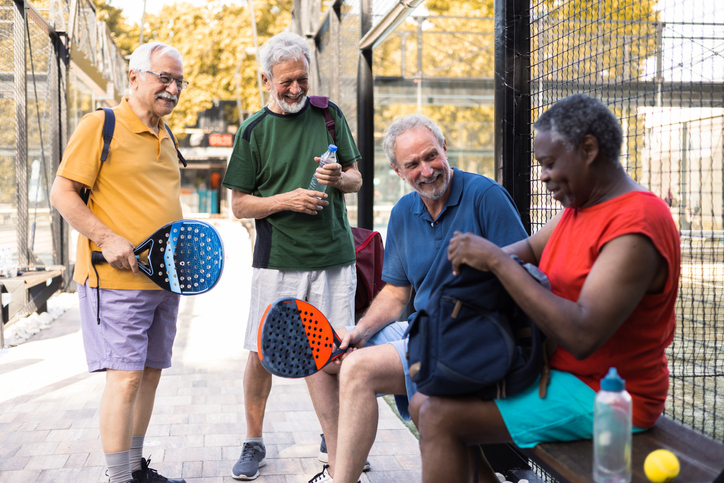 Cognition, our ability to think clearly, often declines as we get older. While some may develop Alzheimer's or dementia, many will experience changes in learning, memory and thinking. Research proves that taking small steps toward living a healthier life helps to minimize declines in cognition, such as maintaining physical activity. Incorporating regular exercise is just one of the following five simple steps to be healthy at any age.
1.     Exercise regularly.
"Exercise is also one of the best things you can do to help prevent dementia and other cognitive changes," says Argye Hillis, M.D. at John Hopkins Medicine. "Once you're cleared by your doctor, aim for at least 30 minutes of physical activity most days of the week." Combining eleven studies, the Alzheimer's Society found that regular exercise reduced the risk of developing dementia by 30 percent, and the risk of Alzheimer's specifically was reduced by as much as 45 percent.
If exercise is something you loathe, it doesn't take a lot of strenuous activity to improve one's overall health dramatically. Walking for a total of 30 minutes a day helps keep the brain healthy by delivering more blood and oxygen to cells. In addition to preventing Alzheimer's, walking can boost mood, keep bones and muscles strong, and reduce the risk of other diseases, such as heart disease and diabetes.
When someone is ready to get serious about preventing age-related problems, resistance training is going to be the best place to start. "The average woman can lose 23 percent of her muscle mass between the ages of 30 and 70," says Fabio Comana, an exercise physiologist at the National Academy of Sports Medicine. "Resistance workouts in particular – can increase mass and strength well into your 90s."
Resistance training is simply exercising your muscles using an opposing force, and the best part is that anyone can practice resistance training using no more than their body weight. Squats, push ups, and planks are all examples of resistance training that can be practiced anywhere.
2.     Improve your diet.
It is undeniable that the food someone eats plays a major role in how they feel. "Ninety percent of the diseases known to man are caused by cheap foodstuffs," said Victor Lindlahr, an American nutritionist in the 1930s. "You are what you eat." If someone wants to feel good, then there's no way around eating better.
In 2022, the U.S. News & World Report named the Mediterranean diet the Best Overall Diet for the fifth year in a row. According to research by Harvard Medical School, the Mediterranean diet may help prevent heart attacks, strokes, and premature death. "The latest research shows that a low-glycemic diet high in fresh fruits and vegetables, whole grains, and lean protein is healthiest," Jeffrey Benabio, M.D. at Kaiser Permanente Primary Care, tells patients.
3.     Make quality sleep a priority.
Did you know that not getting enough sleep can put an individual at higher risk for developing diabetes, cardiovascular disease, depression, and even obesity? Recent research even shows a link between insomnia and accelerated aging of the brain. "Too many of us treat sleep as a luxury instead of a need," says Dr. Benabio of Kaiser. "If I could encourage people to make one healthy change, it would be to sleep more."
The National Sleep Foundation recommends adults get 7 to 9 hours of quality sleep every night. They also point out that most sleep problems are a result of underlying medical conditions, such as acid reflux, which is why addressing any sleeping problems with one's doctor is a good place to start.
4.     Schedule regular checkups with your doctor.
Regular checkups with the doctor, dentist, and other specialists are invaluable opportunities for people to catch problems early and treat them before they become bigger problems. A 2021 study by the National Library of Medicine found that individuals who went to the doctor regularly reported improved quality of life and feelings of wellness. Plus, visiting the dentist and preventing inflammation in the mouth can help manage other inflammatory conditions like diabetes and heart disease, according to the American Academy of Periodontology. Keeping up on these yearly appointments and follow ups is a simple thing that can reap life-saving benefits.
5.     Take Time to Connect
The World Health Organization estimates that more than 300 million people worldwide suffer from depression, with many more affected by anxiety disorders. Someone who feels lonely is more likely to get dementia or depression. This is because such individuals have higher levels of stress hormones which cause inflammation in the body and a lowered immune response. Strong friendships alleviate stress, improve emotional well-being, and are markers of physical health. Experts suggest people can grow their social connection by creating a community through their work relationships, by volunteering, and by making friendships a priority.  "Strong bonds won't happen overnight, but starting small and prioritizing friendships as an important part of your life can bring more happiness, less stress and more support," says Adam Smiley Poswolsky, author of Friendship in the Age of Loneliness. "You know someone is a true friend when they have your back when you're sick, when you lose your job, when you make a mistake, when you're going through a break-up, when you're stressed, when you're sad."
Stress is inevitable, and it is proven to negatively affect one's health. By following these five simple steps, anyone can decrease their levels of stress and increase their overall wellness. Physical activity, eating a balanced diet, good sleep, and social support can all combat the effects of stress on the body. You may be thinking that while you're already stretched thin, fitting in these healthy practices may cause you more stress. That's why starting small with manageable changes will help you incorporate these steps into your routine. Insureyouknow.org can help you manage regular checkups and social engagements and even keep track of medical records, diet journals, sleep data, and exercise logs. Keeping all of your information in one place makes it easy to recognize the positive impact these simple steps will have on your overall health.