The Most Wonderful/Stressful Time of the Year
December 1, 2021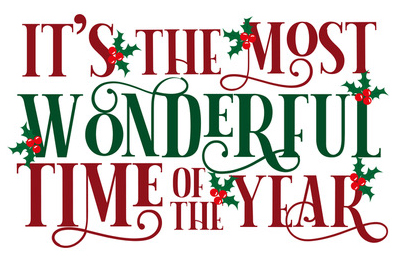 Welcome to what is referred to as both the "most wonderful" and the "most stressful time of the year." During the second year of the COVID-19 pandemic, you may be experiencing stress and depression—unwanted emotions that can ruin your holidays and impact your physical and mental health.
Although you can't control inflation, high gas prices, food and toy shortages, and shipping delays, you can be realistic, plan ahead, and seek support to overcome holiday stress and depression. You may even end up embracing the "most wonderful time of the year."
Tips to Deal with Seasonal Pressures
Be realistic. COVID-19 cases are on the rise in some areas and even if you've been vaccinated, you may decide not to gather with friends and relatives in person. You can opt for a virtual celebration or increase efforts to share photos, texts, emails, phone calls, or videos with loved ones.
Avoid overspending, especially if you're already feeling financial stress. Consider alternatives to expensive gifts by donating to charities in giftees' names or by making and giving homemade presents.
Strive to decorate your home, create meals and desserts, and select gifts that will be appreciated not because they are "perfect" but because they are heartfelt and sincere.
Plan ahead. Compile lists of recipients and specific gift ideas; don't go to browse in busy stores, hoping for inspiration. Save time and frustration caused by traffic and parking congestion by shopping online for items on your gift list. Schedule specific times to shop, bake, and attend social events. Plan menus and then create a detailed grocery list to prevent forgetting needed ingredients.
Acknowledge your feelings. Stress about gatherings with family and friends, or feeling grief about missing loved ones, may result in sadness and grief. Take time to acknowledge and express your feelings. You can't force yourself to be happy just because it's the holiday season. If you celebrate in person or in other ways as described above, set aside differences and controversial topics and concentrate on positive conversations.
Practice mindfulness by bringing your attention to the present moment and avoid getting stressed about past or future events.
Reach out. If you feel lonely or isolated, seek out community, religious or other social events, or communities. Many helpful organizations have websites, online support groups, social media sites, or virtual events that can offer support and companionship.
Volunteering your time and doing something to help others also are good ways to lift your spirits and broaden your friendships. Consider dropping off a meal and dessert at a friend's home or to a community center that serves less fortunate individuals during the holidays.
Learn to say no. Set priorities based on preserving your well-being and don't overextend yourself or you may wind up feeling resentful and overwhelmed. Learn to feel guilt-free when you decline invitations and recognize that you sometimes need to allow yourself to say no to demands on your time.
Maintain healthy habits. Get ample sleep, eat well—even at holiday events—and stay physically active in your daily routine. Maintaining healthy habits during the holiday season will be one of your best defenses against stress. When you feel a bout of stress coming on, have a healthy snack before a holiday party to curb your desire for high-calorie food and drink. Try deep-breathing exercises, meditation, or yoga. Avoid excessive tobacco, alcohol, and drug use.
Take a breather. Make time for yourself. Find an activity you enjoy like taking a walk, listening to calming music, or reading (or listening to) a book. Disconnect temporarily from social media and electronic devices.
Seek professional help if you need it. Even after following all the tips listed above, you may find yourself feeling continuously sad or anxious, beset by physical complaints and lack of sleep, and unable to face daily chores. If these feelings last for a while, talk to your doctor or a mental health professional. If you rely on medications to maintain your physical and mental health, make sure your prescriptions are up-to-date and that you have an adequate supply when your doctor's office or pharmacy may be closed or have reduced hours during the holidays.
InsureYouKnow.org
At InsureYouKnow.org, you can keep a handy record of your prescriptions, refill expiration dates, and contact information for healthcare providers who prescribe and pharmacies that fill your medications.